2022/23 HTX Training + Registration / Uniform Fee Lacrosse · Male
MonTueWedThuFriSatSun 3:00pm to 8:00pm
Camper Fees

Regular

$370.00

+ Transaction Fee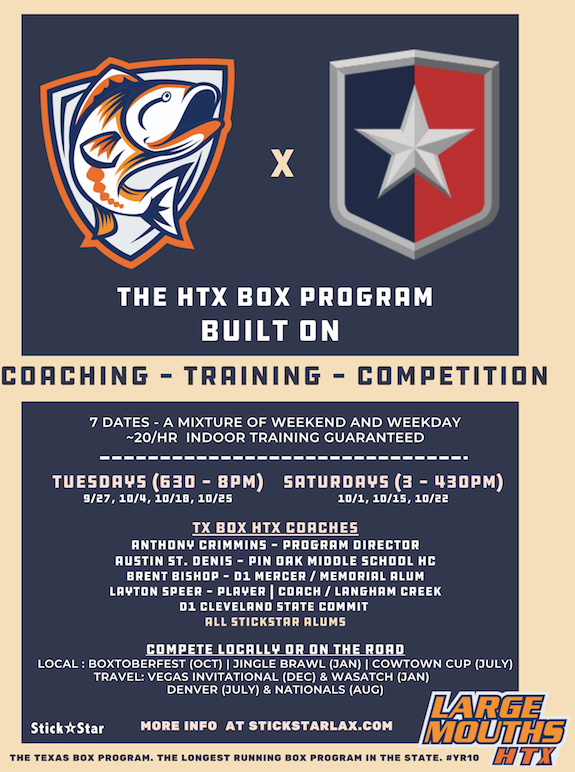 TX BOX: HOUSTON PROGRAM - INFO / REGISTRATION

1) TRAINING FEE $225 - We understand folks will make whatever they can. We are offering 7 Indoor training opportunities. The hourly rent for this facility is substantial and more than we pay in multiple cities Statewide.
Training Days and Times
Tuesdays (630 - 8PM) 9/27, 10/4, 10/18, 10/25)
Saturdays (3 - 430PM) 10/1, 10/15, 10/22

2) ANNUAL TEXAS BOX PROGRAM UNIFORM (SHORTS/GAME SWEATER/PRAX SWEATER HTX BRANDING) $145
We believe looking the part of a program is important. Our players will have a Box Kit that will function as their Houston kit, and their Texas Box Program Kit. If a player decides to play with the Texas Box Program, we don't want them to have to buy an addition uniform as we rollout our brand, The Largemouths.
$370 - 10.5 HRS of TRAINING at A 1st RATE / Air Conditioned / FULL SIZE Facility + UNIFORM.
Tournament details are in the Survey. Please submit to compete. You can also submit the response form but most details are in the Survey.
Click Here to fill out competition SURVEY.
3) STAFF
Our Staff is tremendous. It is built out of Houstonians who have all played in the StickStar Program and can speak to the system and value. All of these Coaches have an understanding of our expectations and and desire to offer an environment built on development.

Looking forward to getting this off the ground!

Kindest Regards,
Anthony Crimmins
HTX Program Director